OBDSTAR X-100 PRO Auto key programmer (C+D) Type
With X-100 PRO, Without worries about Matching!
X100 PRO C+D Type function: Immobilizer remote match+ Odometer+ OBD Software
X-100 PRO Auto Key Programmer is a kind of handheld device for programming keys in immobilizer units on vehicles. This scan tool has a simple and robust design, to make your vehicle service experience much easier!

X-100 PRO Auto Key Programmer (C+D) Type for IMMO+Odometer+OBD Software
Top 8 Reasons to Get X-100 PRO Auto Key Programmer:
1. Original from OBDSTAR, Support EEPROM Function, Including OBDSTAR PIC and EEPROM 2-in-1 Adapter in the Package
2. Free Update Online on Official Website for 1 Year
3. Inherited the overall look of the original X - 100 +, changed the new silicone button, feel more comfortable
4. Adjusted the TF card slot position in mold, fit more tightly than previous generation, card plug will not go inside the machine
5. Software downloading speed is improved by more than 50%
6. New upgraded software operating system, added operating interactive prompt
7. High-capacity 4G TF card, more stable performance, never appear white screen
8. New design of PCB hardware, greatly improved configuration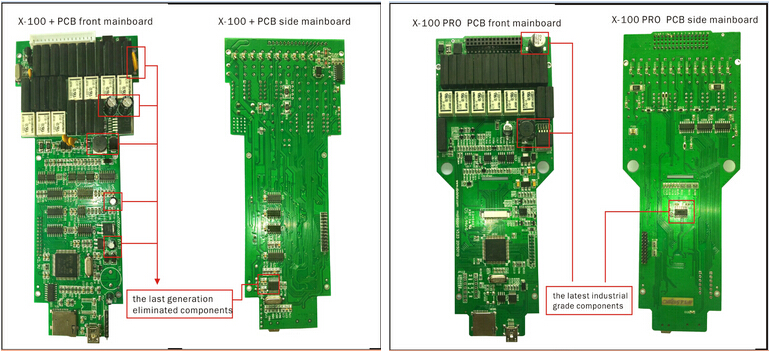 Notice:
1. Language: English, Simplified Chinese, Traditional Chinese
2. Dealer Code: 860755B1
3. Configuration(C+D): IMMOBILISER+ OBD Software and Odometer Adjustment + OBD Software
4. Customer test report: Hummer H2 2008 via obd ok, Seat Ibiza 2014 Via obd OK

What's the difference between this OBDSTAR X100 and XTOOL X100?

1. OBDSTAR X100 can support EEPROM function, while XTOOL X100 can't
2. OBDStar X100 can't support Proton, while XTOOL X100 can
X-100 Pro Vehicle Coverage:

EEPROM Adapter: EEPROM ADAPTER V30.40

Immobiliser: ACURA, AUDI, BAIC, BESTURN, BRILLIANE, BYD, CHANGAN, CHANGHE, CHERY, CHRYSLER, CITROEN, DFLZ, DFPV, DS, FORD, GEELY, GM, GREATWALL, HAFEI, HAIMA, HAWTAI Motor, HONDA, HONGQI, HUAPU, HYUNDAI, INFINITI, JAC, JAGUAR, KIA, LANDROVER, LEXUS, LIFAN, LINCOLN, LUFENG, MAZDA, MG, MITSUBISHI, NISSAN, OPEL, PEUGEOT, PORSCHE, RENAULT, ROEWE, SAIC ENGLANG, SEAT, SKODA, SMART, SSANGYONG, SUBARU, SUZUKI, TOYOTA, VW, YOUNGLOTUS, ZZMAZDA, ZZNISSAN;

OBDII: OBDII V30.02 for diagnose

Odometer: AUDI, VW, BENZ, Chrysler, Ford, GM, Porsche, Skoda, Seat

And the more cars' software will be released.

Remark: including X-100+ all the matching function and add new software function in X-100 PRO. Do not include Proton this car model

Customer Feedback:
SK164 OBDSTAR X-100 Pro Tested Yes for the Following Models for Mileage Change:

1) VAG group vehicles:
Audi A3 is on the list from 2003 - 2006, 2007- up personally I have not tried
Volkswagen Tiguan 2013 TFT color dash nec+24C64 ok
Volkswagen caddy 2014 white meter NEC24C64 via obd
Volkswagen Caddy 2014 with TFT Color dash via obd
Volkswagen Caddy 2014 with TFT Color dash via obd
Seat Ibiza 2014 Via obd ok
Volkswagen Polo 2014 with NEC24C64
06 a8 OK
2013 golf with black/white screen - OK (with latest update)
Q5 2013 via obd ok
Tiguan 2012 tft color NEC24C64 ok
Volkswagen Polo 2014 White Meter NEC24C64 using golf menu OK

2) Hyundai
Hyundai verna fluidic obd ok
hyundai accent 2012 by obd ok 24c16
Hyundai Creta D70F3525 ok
Hyundai Verna 24c16 ok

3) Kia
Kia Sportage with 24c16 2012 work perfect
Kia sorrento 24c16 al ok obd

4) Opel
Opel Isignia 2011 works well via obd
Astra J 2010 ok
Opel Insignia 2009/2011 OK

5) Others
Chevrolet Cruze 2010, 2011, 2012 via obd Ok
Range Rover Evoque 2013 via obd ok
Jeep compas 2014 for obd2 2008+
I20 24c16 ok (Note: if you WANT TO DO KM IN HYUNDAI I20 THEN YOU HAVE TO PUT KM 4 TIME MORE EX. 1000 KM NEED THEN PUT 4000 KM IN X100.)
2006 Chrysler 300c -> will do dash via obd but won't do SRI
Hummer H2 2008 via obd ok
2014 Altima Via obd ok
i20 by obd ok ..... so i had to make the x4 solution given on this thread example for 25300km = 25300x4 ; sometimes gives 9999999 some times 564873248 whatever but keep trying 1 or more number more on total.
Rio obd ok
X-100 Pro Fail:
Ibiza 2015 failed
Car had 110,581 kms x100 displayed 442,xxx kms
Volkswagen Polo 2012 with Nec+95320 can't do it, security access failed
AUDI a3 2011 not work, advise you can do it with vvdi, vvdi2
2006 chrysler pacifica immo no connection (8th November, 2015 update)
Hyundai Verna Fludic 2015 pertol but no communication with x 100(20th November, 2015)
98 beetle NOT OK(22nd November, 2015)
Volkswagen Caddy 2015 white meter with NEC24c64 failed (27th November, 2015)

Features:
1. New keys programming;
2. Reads keys from immobilizer's memory;
3. New immobilizer programming;
4. New ECU programming;
5. New mechanical key number programming;
6. Vehicle Identification Number programming;
7. Reset ECU&reset immobilizer;
8. Easy to operate by the guided menu programming;
9. New remote controller programming;
10. Immo PINCODE reader;
11. Odometer ajustment(Via obd);
12. With full and strong database for the most important vehicle makes;
13. Upgradeable via web-based download;
14. EEPROM Chip read;
Packing List:

1pc x X-100 RPO Main Unit
1pc x OBDII-16 Connector
1pc x HONDA-3 Connector
1pc x HYUNDAI/KIA-10 Connector
1pc x KIA-20 Connector
1pc x Main Cable
1pc x TF Card
1pc x TF Card Reader
1pc x X-100 PRO User's Manual
1pc x OBDSTAR PIC and EEPROM 2-in-1 Adapter